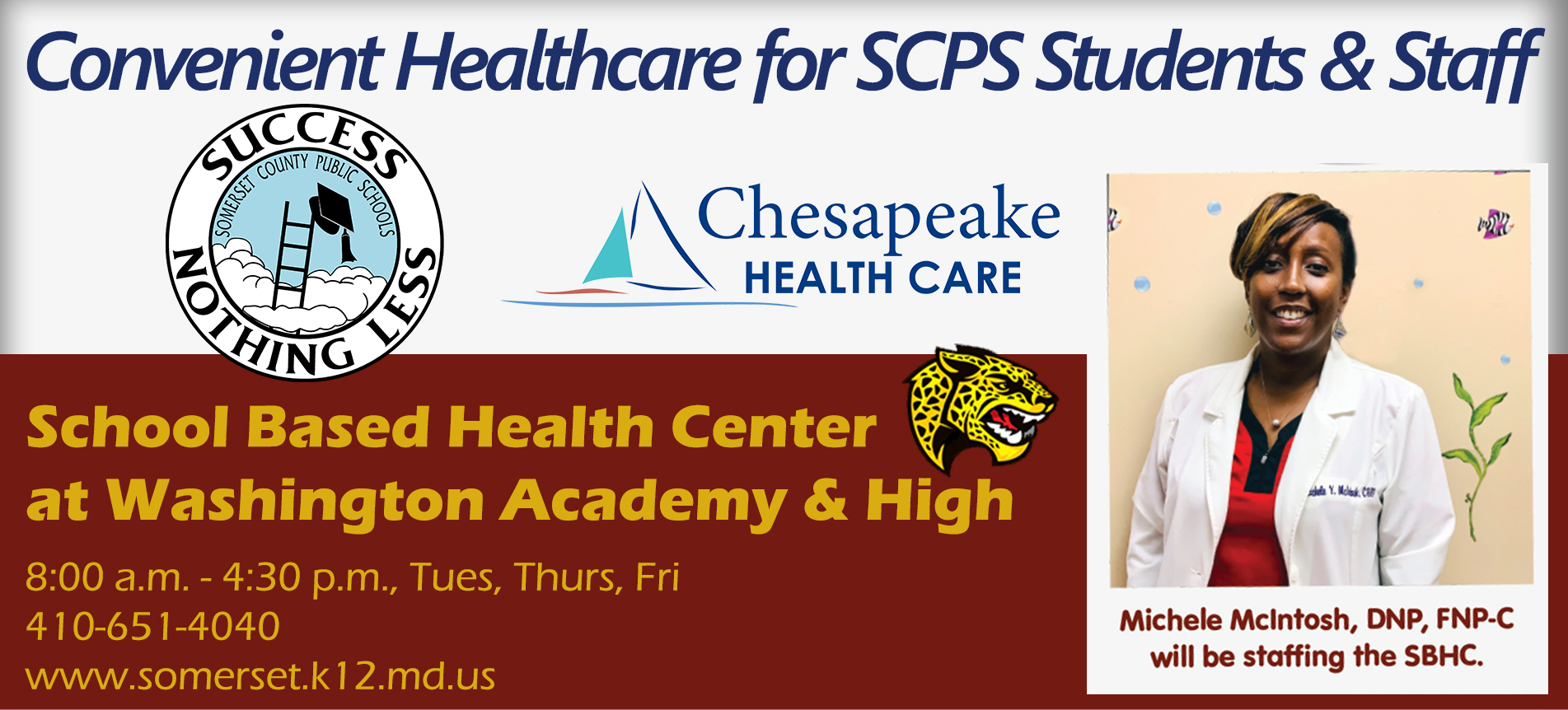 School Based Health Center
Chesapeake Health Care's School Based Health Center (SBHC) at Washington Academy & High School (WAHS) is committed to providing access to quality, comprehensive and respectful care for our patients and community. Thanks to a generous grant from the Maryland Community Health Resources Commission (CHRC), the health center provides SCPS students and staff with better access to care and improved health outcomes. Medical providers can diagnose and treat common health conditions on site, and provide telehealth services to other schools in the county. Services are provided at no or low cost, but no one is refused health care for inability to pay. The SBHC at WAHS aims to create a healthier and more focused student body.
What the SBHC offers:
Treatment for Acute Illness (like the flu or sore throat)

Treatment for Chronic Conditions (like asthma or diabetes)

Sports & School Physicals

Primary Care (if you do not have a primary care provider)

Counseling on Healthy Nutritional Habits & How to Prevent Injury, Violence, and Other Threats
What You Need To Know:
Parents and guardians will be asked to complete a consent form to allow Chesapeake Health Care to treat students at the SBHC. This is necessary for care, but only required to be completed once.
The School Based Health Center based at Washington Academy & High School works in tandem with Somerset County Public Schools' nurses to provide access to appointments for students and staff at all other schools in the county. Every effort is made to ensure the care is not disruptive to their learning. The health center works closely with school nurses and counselors to ensure students get the most comprehensive care.
We Welcome Everyone in the SCPS Community
Comprehensive health care is available to students, faculty and staff at no or low cost. We treat everyone, regardless of ability to pay. Chesapeake Health Care's Certified Application Counselors are available to assist families in applying for Medicaid, allowing for treatment in the same day.
Hours of Operation:
8:00 AM – 4:30 PM
Monday, Thursday, Friday
Phone:
410-651-4040